KMS Systems, Inc., a Florida corporation, was founded in 1992 as a marine construction company. Today, KMS Systems is a Florida State Certified Building Contractor CBC#: 1258387 and specializes in major residential exterior home improvements including: Windows, Siding and Enclosures both Sunrooms and Screen Rooms.
KMS Systems corporate office is located in Jacksonville Beach, Florida at 1301-C Penman Road.
KMS Systems has over 26 years of business and construction experience and is committed to providing a professional, friendly & courteous experience!
KMS Systems Mission Statement
We are proud to provide superior service and craftsmanship in delivering major home improvement projects, including window replacement, siding replacement, and new patio enclosures, to home owners while maintaining the highest professional and ethical standards.
We will accomplish this by:
Delivering our customers the highest level of service.
Staying focused, providing attention to detail and quality construction.
Being honest and respectful in everything we do.
KMS Systems Management Team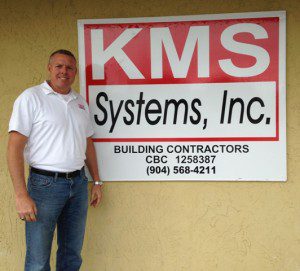 Kevin Fitzgerald
Kevin Fitzgerald is the President and CEO for KMS Systems. Kevin and his family have lived in Jacksonville since coming to work at KMS in 1994. Kevin is a Florida State Certified Building Contractor and is the primary licensee at KMS. Kevin is a graduate of the University of South Florida and holds and MBA from Jacksonville University. Kevin has a passion for helping others and is committed to helping homeowners meet their home improvement goals.